Welcome to the official site for Cincinnati's third annual Witches Ball. The past two years collectively has seen over 1,200 partying witchy style at The Southgate come October. This year promises to be the biggest one of them all!
This year the Ball has a theme "The Triple Goddess". Being that this is our third ball and it's on the third Friday in October we choose to devote this ball to the three aspects of the Lady.
As in years past there will be a jumping dance floor with DJ Rob spinning the tunes. Our master of ceremonies has performed on Broadway, and supplies much comic relief. Renowned psychics will be giving professional readings. A Lord and Lady will amaze you with their dance of fire. A full participation drum circle will get you into the groove. As always get into the costume contest, this year the audience will name the Lord and Lady of the ball! Belly Dancers will charm you, and the "Night Gallery" is a feast for the eyes. Finger food will be provided by the ball committee and Kaldi's Coffee House. The Southgate staffs two pay bars. Through out the evening we will have raffles, giving away the most unique items from our vendors. This year the Witches Ball brings together to Tragically hip establishments: "Spunk" clothing and "Diva's" salon who will perform a powerhouse fashion show. All in all this promises to be the biggest ball of them all!
Tickets are sold on-line. We will post the store fronts where you can purchase tickets as soon as they are in stores!

Ready to buy your tickets now?

You can pre-order tickets on-line today using your credit/debit card or Paypal. Your Tickets will be mailed within 3 weeks. If you pre-order before July 31st you will receive and additional $5 discount! Just click on the ticket to be taken to the purchase page. Tickets will be the same as last year: $15 per person, $25 per couple and $20 per person at the door.


Hoopla:
Be the first in your coven to own an official witches ball item! We have partnered with CafePress.com to bring you the first line of witches ball merchandise.
If you have pictures you would like to share on this website, or pics of those who helped out please e-mail them to Rev. Banshee.
Meet someone interesting at the Ball??
Reunite with all the cool people you met at the Witches Ball. Subscribe to "witchesballcincy" today!
Sign and read the "Guestbook of Shadows"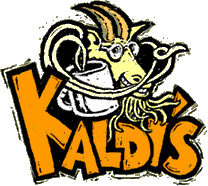 In 2001 we had food donated by KALDI'S ! Check them out for a cup of fancy joe, vegetarian meals, and deli fresh sand-witches. Go to their WEBSITE!
Need Hotel information? Directions? It's all right here HERE!
| | |
| --- | --- |
| | The Southgate House is located across the street from the Newport Aquarium. So if you get lost just look for signs with sharks on them, like the one pictured here! |