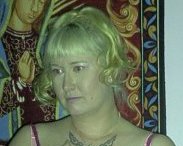 E-mail || Where: Cincinnati || Children= No || Sign: Aries || Path: Shaman
I'm 421, but I don't look or act it. I'm an x archaeologist but I am still into anthropology, which reflects in the classes that I teach in a local occult shop. I am a former model and "Bunny". I am very appearance oriented.
I'm a second level Reiki practitioner, and a High Priestess of Aphrodite. I am into Shamanism, divination, comparative myth and religion, history, philosophy, art, power puff girls, Buffy and X-Men. I love movies, travel and restaurants, but no girly movies! I pay my bills and take care of my 3 cats. I am independent and self sufficient.
I am looking for someone who is spiritually aware, physically fit, intelligent but fun loving, a professional (not a hit man), and someone I have things in common with, a kindred spirit. I am seeking a long term relationship. I want a gentleman who is NO younger than 35, and no older than 45. "Crunchy granola, Berkinstock, torn jeans, plaid shirt, hair and beard by ZZ Top" men need not apply!
---
Website
||
e-mail
||
Where:
Cincinnati ||
Children
= 1 ||
Path:
Ecletic/Wiccan/Buddhist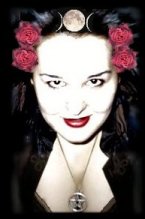 Hello there, I am 27, Aquarius, Libra moon, Cap asc. My career and personal life revolve around my spirituality. I have been pagan since 1989.
As for my labels, I am : A priestess of Isis, Buddhist initiate, Wiccan priestess of the "Coven of the Illuminated Shadow", professional psychic of 9 years, Reiki Master/Teacher, Gothic and in touch with both my light and dark sides.
I am very active in my local pagan community hosting and planning events such as classes in my shop, the local Witches Ball and festivals.
Friends: I am not single. I am always seeking to meet others who share or would like to learn more about spiritual paths. I am a part of a large and interesting eclectic group here in Cincinnati. We meet often to hold classes, rituals, meditations, drum circles and socials. We go to Pagans festivals around the area and try to support other groups as well.
Personally: I am ambitious and driven in my spirituality which coincides with my chosen career path. I seek truth in my life and relationships, so I am the first to bring up touchy subjects for scrutiny- so that the darkness can be lifted. I am very intellectual and favor myself an armchair psychologist. I have come through a lot of lessons about co-dependency and unhealthy ways of loving another.
---
E-mail |||| Where: Baberton Ohio |||||| Children: 7 ||||| Path: Eclectic |||| Sign: Leo ||| Travel: Yes
Shasti: im 52 going on 30 i enjoy concerts u2 being my favorite any rock music i am a solitary witch looking for my soulmate to share my life and beliefs i am searching for someone that is loyal and faithful im in the process of creating my home page i write poetry some silly some serious but all comes from the heart so the title magikal thoughts from the heart is how i feel about life my name shasti means goddess of fertility and protecter of children i have 7 grown children and 16 grandchildren living in south carolina tenn wva and ohio if you are looing for a family full of love and laughter come join us bright blessing shasti.
Seeks a LTR with a Man.
i guess i added most of what im looking for in the other part so to repeat myself im looking for my soulmate someone to share my life my home my beliefs my family some that can teach me and i can teach what i have learned someone to laugh with love with live with share with.
---
E-mail |||| Where: Orange County, CA |||||| Children: 2 ||||| Path: Eclectic |||| Sign: Aquarius ||| Travel: Yes
Marie: wicca, pagan, druid, highmage, newage, shaman, Goddess. Currently involved with Metaphysical Christain church and exploring Paganism
Hello,
I'm 5'10", dark blond with gold/green eyes, 36 yrs old. I go to the gym a few times a week to keep in shape. I've been told that I'm VERY sexy, and beautiful, but I'll let you be the judge of that. I like to wear tight fitting sexy clothes most of the time or jeans. I have a belly ring and a heart tat on my left ankle.
I have Boy/Girl Twins, age 7 and I enjoy spending time with them, playing games and going places. I like to read(J.R.R. Tolkien, lately), draw, do crafts,Mystical things(I collect Faeries) go hiking/climbing(not with ropes),go the beach,travel(although I've never been to far) movies, dining out, cooking, and spending quiet evening at home by candle light. I don't like the club scene, but I do like to play pool/darts and drink beer on occasion. I'm a Massage Therapist and Reiki Practioner, and I enjoy doing that quite a bit as well.
I'm pretty mellow most of the time and happy, but when I do get angry, I don't yell. I like to work it out as soon a possible, because life is to short to stay angry. I can't stand yelling (in anger, that is) I think I have a good sense of humor. I don't like to take life or myself to seriously.
I just want to be as happy and have as much fun as I can, and also give of myself to others, be there for the people that I care about. I'm very sensitive, and caring.SORRY NO PICS-WILL SEND ONE TO YOU IF YOU WANT.
What I Want:
I'm looking for someone that is, outgoing, sensetive, self confident,creative, passionate, emotionally available, not so serious all the time, and a good communicator. I'm not old-fashioned, but I like a man that has good manners and knows how to treat a lady.
I'm 5'10" so I like my man to be tall as well. I like a man that takes good care of himself, and keeps himself in shape. someone between 30-40.
I give 100% of myself to make relationship work, and have it be fulfilling and enjoyable for both people. I'm looking for someone that is willing to do the same, and that has similar interests as mine. I'm looking for someone that will accept and love my kids. I look forward to hearing from you. Bye now.
---
E-mail |||| Where: Nashville, TN |||||| Children: 0 ||||| Path: Druid |||| Sign: Virgo ||| Travel: No
Laura: Ample Figure, Age 35, Druid, Single. I'm currently looking to simply meet others of like mind in my area in order to form a study and/or singles group. If interested, contact me via e-mail for more info.

---
E-mail |||| Where: Massachusetts |||||| Children: 1||||| Path: New Age|||| Sign: Libra ||| Travel:Yes
AirmidsChi:
~Greetings~ I am eclectic,empathic,creative and a BBW pagan.I am very interested in synchronicity and have just begun to explore James Redfields' book "The Celestine Prophecy".
I have brown hair(with many red highlights),hazel eyes(green/brown),and am 5'5"tal, 43 yr/ol.I am in the process of growing my very wavey hair long again,so it's about to the point where I can just put it up. My clothing style is varied,but I prefer longer skirts/dresses which are made of rayon or cotton and have a flow to them for the summer.
I have one child,a son,who lives with me(he is a teen). I have a great fondness for animals and share my home with:a guinea pig; 2 lovebirds and 3 cat.
Curious by nature,I enjoy doing research on my many interests and spend alot of time reading or online. I used to be a residential counsilor with the mentally challenged,but a few years ago was diagnosed with fibromyalgia and rheumatoid arthritis-so some days are better for me than others. I have been exploring alternative medicines.
I have three small gardens outside and enjoy spending time in them.
Want I Want: I am looking for someone with values which are similar to my own. Someone who knows how to respect all life forms.Conversation and intellectual discussions,as well as just sharing and brainstorming are very important to me. As well as humor and a tendency to be able to laugh at oneself as well.
I enjoy: playing;scrabble;swimming;sci/fi-fantasy;all music(depends on my mood);the ocean;thunderstorms;laughing;snuggling;pillow fights;butter pecan ice cream;building sandcastles. I love looking up at the sun,shining down,through the trees,while I'm floating on my back down the river.
I've been too quick to jump into relationships in the past.This time I want to take my time to get know someone first.As much as I love sex and physical affection,I am willing to wait until we get to know each other first.~Blessed be~

---
E-mail |||| Where: Gig Harbor, WA |||||| Children: yes||||| Path: New Age/ Pagan|||| Sign: Aquarius ||| Travel:No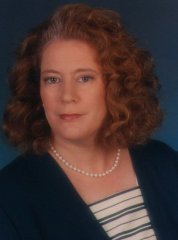 Karen : Greetings,
I am a single mom whose kids are grown and am presently living alone in Washington State. I read Tarot, studied astrology, collect and use crystals in my everyday endeavors. I have recently obtained my Reiki I degree and am looking forward to using it in my everday work (RN). I also am venturing into my creative side, beading, jewelry making, pottery. My beliefs lean towards pagan in respect for nature, the Lord and Lady, Lunar energy and cycles, magick. But I also believe in angels, ascended masters, spirit guides, faeries. I am in the process also of learning how to make soap. I like working with oils and herbs and what better way to use both (candlemaking aside). I enjoy walks on the beach, hikes along mountain trails, live music, theatre, the zoo, amusement parks, drives, seeing new places. I grew up in PA., and
have also lived in Hawaii and AZ. I moved to WA in November because I missed the water and the mountains. I am 5'6 and slightly overweight, 46 yr/o. I have reddish/brown/blonde/gray hair with gray eyes. I've been told my eyes change color with my mood (different shades of blue, sometimes green). I like animals and have 2 wonderful cats with me at present (Morgan and Alice). I have been alone a long time and the thought of sharing the same space with another individual is
sometimes scary. But I can't help but to agree that to love and be loved is the greatest joy on earth. I remember as if it were yesterday.

What I want:I am looking for a man I can relate to on a physical, spiritual, and mental level. He is self sufficient, knows himself and what he wants in life. Hisheart is open and kind. A sense of humor is essential. Preferably he doesn't
smoke and is a light drinker only. I love children even though mine are grown, so kids are definitely okay. You are financially secure (not to be equated with wealthy). I like sensitive and gentle yet assertive when necessary. I like to hug and
hold hands, so definitely affectionate nature. I am not looking for someone who is athletic, into body building, etc. but at least respect your bodyand be content/comfortable with your appearance. Varied interests are good, and follow through in some of them is even better (LOL). If you are fun-loving, spiritual, romantic, kind, affectionate, and this ad in any way touches your heart or soul, then I would like the opportunity to meet you. If you are looking for a sex partner only, I am not the woman for you.
---
E-mail |||| Where: Northern Virginia |||| Children: Yes||| Path: Wicca, Goddess, Pagan|||| Sign: Capricorn ||| Travel:No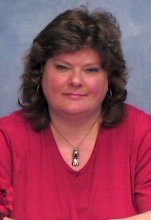 Linda
Newly separated lady looking for pagan friends(first) hopefully romance(later). Still adjusting to single life. Kids are almost all grown and gone. Last two at home are 19 & 18. I don't look forward to their leaving! I want to get back into my religion after 4 years of interruptions. Soon-to-be-ex-husband was not supportive of my pagan path. I have extensive experience in co-creating rituals, writing about pagan and environmental subjects for magazines, and just listening well to other people. I'm looking for work right now and it occupies much of my time. It's tough, since I was an "at home" mom for many years. I have a B.A. in Geography, but it doesn't get me very far in this high-tech computer driven job market. I don't have much time to socialize, so I thought I'd try the Internet. I live in Northern Virginia right now, but some day I want to go back home to Texas. I would like to connect with many types of pagan people - women currently in my situation, women who have gone through divorce and moved on - pagan men who are divorced - pagan men who are lonely - anyone on the pagan path that would like to connect to someone my age. I promise I will write back.

SEEKING: 1) Internet "pen pals" are OK but I eventually want to meet people and talk to them personally - so I guess I'm looking for someone within 100 miles of Manassas, VA I don't mind travelling for an event or a meeting.

2) I would like to connect with divorced or separated or otherwise "single" men. There's no use trying to have a relationship with a married man.

3) Women contacts are great, too. I'm not just looking for a man. I'm searching for a community.

4) I think someone between the ages of 30 and 60 would have the most in common with me. Young people are wonderful, but I live with two of them. I would like to connect with more mature folks.

5) I would like to find a group also, to celebrate the Sabbats and Esbats with and to go camping and to festivals with. I hate doing everything by myself.

6) I already know a lot, but I am always looking for a "teacher" since I have vowed to never stop learning. I'm particularly interested in learning about herbs and gardening as well as sustainable agriculture.

7) I am (obviously) an ample-figured lady. I don't care what you look like or if you're fat or handicapped or whatever. Personality is more important.

8) I don't have much patience for drug abusers or heavy drinkers. The pagan path says "harm none"...that includes yourself.
---
E-mail |||| WEB ||| Where: Denver, CO|||| Children: Yes||| Path: Wicca, Eclectic Gallae|||| Sign: Taurus ||| Travel:No
Jessica Raven: I am a 24 year old pre-op male to female transsexual witch girl, 5'7" 114 lbs, slender and slightly curvey, short brown hair, green eyes, very sweet, and friendly, I'm the shy quiet type, I do not do bars, nor do I drink, smoke, or do drugs
My idea of a romantic date is an afternoon at the museum wrapped in the arms of the man who loves me. he must be sweet caring and romantic, preferably someone around my age and who lives close by
if interested write me I'm looking forward to hearing you!
---
E-mail |||| Where: Harrison, Ohio|||| Children: Yes||| Path: Wicca, Pagan |||| Sign: Virgo ||| Travel:No

Jennifer: I am a 20 year old female, new to wicca. I have two children, both girls, and married. I've always been interested in wicca, but just now finding the time to actually become involved. I would love it if I could find some pen-pals on the internet to further help me in the travel into this new world of wicca. I would like to talk on the internet, by email, or on the phone, or in person
If you are interested in helping me as a teacher, or just a friend, please email me --- all emails will be returned and greatly appreciated. thank you
---
E-mail |||| Where: Dallas, TX|||| Children: Yes||| Path:Pagan, Buddhist |||| Sign: Leo ||| Travel:No

Illyra: I am 5'6, and have red hair and hazel eyes. I live in the dfw area of Texas. I live in a house with a roomate. I am currently looking for people to talk to and to be able to share giofts of the goddess with. You can e mail me. A picture is available upon request.
Seeking: see above. you must forgive my shortness. i am quite new at this and a little unsure.
---
E-mail
||||
Where:
Pensacola,FL||||
Children:
Yes|||
Path:
Pagan, Eclectic Everything||||
Sign:
Libra |||
Travel:
No
Meadow:
Strong and independent, single parent of 11 yo son and 3 cats. I have been single for 10 years and just looking for someone to share lifes joys and discoveries. Someone that is truly open-minded not just with pagans. I am 5'4" with long blonde hair and brown eyes and wear glasses. I am outgoing and friendly and love the outdoors.
Seeking:
I would like to meet an emotionally mature man that is into motorcycles, canoeing and camping. Someone that is strong enough about themself to not be overwhelmed or have to compete with a strong woman like me. I am not high maintenance, just particular because the right person for me is out there and I have all the time in this life and the next to discover him.
---
E-mail
||||
Where:
Western Ohio||||
Children:
Yes|||
Path:
Wicca ||||
Sign:
Age 31|||
Travel:
No
Tracy:
I am a single mother and spend most of my time with my children. I love to read. Would rather sit at home and watch movies than go out on the town.
Seeks:
A man for a long term relationship, or encounter. I am looking for someone who will accept me for who I am and not want to change me into what they want me to be.
---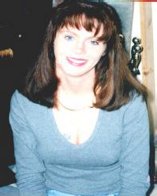 E-Mail ||||| Location: Cincinnati Ohio||||| Path:?||||||| Sign:Cancer |||| Travel: No

Renee: I'm 5'9", average build, auburn hair(natural blond though, I color my hair), blue eyes. Im a Secretary/Marketing Director by day and housewife by night (lol) sounds really boring huh? I am married have 2 boys 6 & 12. I'm a very open minded person, very compasionate. I was raised a Southern Baptist, but never felt it was where I belonged. I read alot, and I mean alot. I love the outdoors, anything that has to do with nature, animals (especially horses) I have some Cherokee Indian in me, though you cannot tell it by looking at me. My grandfather was more than 1/2 Cherokee Indian.
Seeking: Seeking someone around my age (33) to help guide & teach each other and just have fun, hang out with each other and to become close friends.
---
E-Mail ||||| Location: FLA ||||| Path:Eclectic pagan ||||| Sign:Capricorn |||| Travel: Yes
Shaun Marie AKA Moonsong: 31, a petite 5'1, long curly golden brown hair, and large brown eyes. I am a passionate, spiritual, educated, fun-loving, genuine, honest and caring singer and event planner. There are many things I enjoy doing; really too many to list but a sample would be that I love to travel, adore animals, love to read and go to concerts, theater,fairs and carnivals. I love hiking and camping, horseback riding, watching ice hockey and a good baseball game. I'm also an amazing cook and fantastic kisser. =)
Seeking: I'm looking for my twin flame (who isn't I know...lol). The man in my dreams is a warrior-poet. He's strong and masculine but knows how and when to be gentle and caring. He will obviously be gorgeous to me. Intelligent, funny, passionate and compassionate. No smoking, drugs, and no heavy drinking! Financially secure, emotionally available, generous, kind, sensitive, even a little shy, clean, healthy and sane, and willing to learn and grow, explore and experience. I have a good sense that he hasn't had children yet. That's something I would like for us both to experience for the first time together (since this is basically a wish list). And I have to admit that small glasses on a man is a huge turn on for some strange reason...lol.
I know I ask for a lot but I'm willing and able to give all that and more. I'm not looking for a perfect man just one who is perfect for me.

---
E-Mail ||||| Location: Cincinnati, Ohio ||||| Path:Eclectic pagan ||||| Sign:Taurus |||| Travel: Yes
Gwen: I am an intelligent, fun loving, spiritual, non-smoking, Rubenesque, card carrying CUUPS member, w/ a lively sense of humor. My many, many, eclectic interests include music--primarily acoustic, but will listen to just about anything w/ a melodic line and a beat; dancing; song; spirituality; science fiction; historical recreation; funny movies; metaphysics; & watching the sunset w/ someone special.
Sorry, no pic yet, reply, then ask, & you will recieve one.
Seeks: Seeking companion to share friendship, laughs, discussions, mutual interests, music festivals, Pagan festivals, movies, firesides, your company & a possible LTR.
Are you that special someone? Let's find out....
Single or equivalent only need apply.
---
Sign Up HERE >>>>>>