E-mail |||||| Location: Sabina, Ohio |||||| Path: Wicca, Aradia ||||| Children: Yes 2 ||||| Sign: Virgo




DALAN: I am very open minded individual, very nature oriented, finds the beauty in all things, a star gazer and a galaxy traveler. Age: 43, Build: Athletic, Relationship Status: Seperated, Travel? Yes

SEEKS: A woman for a LTR or Encounter. A lover of all that is wild and free, one to walk and talk with about everything from green grass to politics in China, prefer someone with a healthy attitude and lifestyle.

---
E-Mail ||||| URL ||||| Location: Cincinnati, Ohio||||| Path: Pagan, Wiccan |||| Sign: Scorpio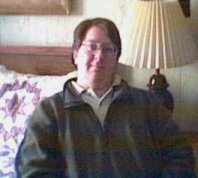 Anthony: Age- 31, Build- Ample, Marital Status- Single, Travel- Yes, Children- No.
Let me see...I'm 6'0", cuddly...which means I weigh too much but I never thought that mattered. I have reddish brown hair and blue/grey eyes that change with my moods. I'm a poet (complete with the soul) I like to read and I do a lot of writing. I like to debate anything, a good arguement is great fun. I like to go out and watch movies and do other things or stay home for a quiet evening. Anything else you might want to know, just ask.

SEEKS: What I want is mostly a friend. My girlfriend broke up with me on Valentines Day of all days (it's a long story) and I'm a little bruised. I need someone to be there and be my friend before she is anything else to me...I want someone to go out with and enjoy a bit of life, anything that happens happens but company is all I'm looking for. I am as you see me, just a man who needs a few friends, maybe someone I can go out and do things with, go to movies, the zoo, the museums. I am a very open minded individual, I like being outdoors when I can be, there are a good number of parks around here and I take advantage of them when I can. I love being out in nature.

---
E-Mail ||||| Location: ?||||| Path: Goddess, Wiccan |||| Children: Yes ||||||| Sign: Aries |||| Travel: No

Spacedfather
I am a single pagan seeking a Long Term Relationship with a woman. I am 26 and of ample build.


---
E-Mail ||||| URL ||||||Location: Upland, IN||||| Path: Pagan, Wiccan |||| Children: No ||||||| Sign: Capricorn |||| Travel: No
Shawn

I'm a 23 y/o guy who just can't seem to find what i'm looking for. i'm 6'2" tall,150 lbs, sandy blond hair, hazel eyes. I've been a practicing eclectic pagan for about 8 yrs. i'm a very outdoors type of person, spent alot of time around the feild of construction, but currently work for Red Gold Co. looking for something a little better. would like to move but not sure where i want to go yet, would like to find a special someone to help with the decision. I'm very easy going, with a philisophical sort of attitude. I'm well educated, and just a simple hillbilly at heart. My interests range from traveling, to festivals, to capming and movies. I'm a big Buffy TVS fan as well as Angel of coarse. I like to sit around and pick guitar and enjoy the good times, and enjoy taking a walk through the woods or a hike up a mountain side.

SEEKS: I'd like to find my soulmate, I know she's out there somewhere, I don't know if I'll find her online but it seems to be the place to find everything your looking for these days. I'm not really concerned with age, age is just a number, and it's shallow to put such limitations on love and anything else in life. I'm not real concerned about looks, but as shallow as it sounds there has to be some attraction for a relationship to work. But what the hey ya never know till ya try. I'm an animal lover so that would be a must. Other than that i'm open minded, so if you think you fit the bill drop me a line. And anyone who just wants to write or chat drop me a line cause i'll talk to just about anyone, and my knowledge is well rounded so... talk to you all soon -
Shawn ~articwolf

---
E-Mail |||||Location: washington state||||| Path: Druid |||| Children: No ||||||| Sign: Cancer |||| Travel: Yes
Jerry Schwarz (aka Bran)
Hello,
I am a druid high preist (a lonely one at that) obviously I love nature and animals ect... I am currently in school studying veterinary sciences, and am gainfully employed in the us army national guard as a full time worker.
I really would like to meet a woman who can appreciate poetry, and tolerate being treated like the most important thing in the world.

Can you be my lover? my freind? my magickal parter? a fellow companion traveller through the dark and lovely night? Please be slender to average body syle, pagan, female, and preferably in wa state.

---
E-Mail ||||| Location: Bakersfield, CA||||| Path: Pagan |||| Children: 2 ||||||| Sign: Capricorn |||| Travel: Yes
Rogh Pinkerton
Hello, I enjoy Highland Games and Celtic Gatherings. I have a hobby business making, importing, refinishing and selling Medieval weapons, armour and acoutrements. I'm a non-drinker and non-smoker and not into the bar scene. I get very uncomfortable in bars as I have bounced part time for the last almost 20 years. I was married when I was 19 but the marriage was annulled and I've been single ever since. I do have a daughter but she lives in Germany. I'm a bit shy about relationships having lost all I had ever wanted, but I need to start living again and find a person to be my friend, partner, lover and Lifemate. I may not have Galahads looks but I do have Lancelots heart. If you want to be treated like a lady, be an equal partner in a relationship, have a man that is faithful, loving, caring and sensitive, then contact me. Not a bad boy, wouldn't know how to be one.
I hope to find a woman that has an interest in RenFaires and Celtic events, etc...Someone that also wants to start a family. Not sure what else to write other than I prefer to meet a person face 2 face than just via pictures.
---
E-Mail ||||| Location: N. Indiana||||| Path: Asatru/Odinist |||| Children: 2 ||||||| Sign:Taurus|||| Travel: Yes
Rev. Leif Odinnson
I am an ordained Heathen minister, a High priest of Odin,the Allfather of the Norse, a professional tarot reader and a wizard. By wizard I mean the male equivalent of witch. I study and practice natural magic, by collecting spells, formulas, etc. from around the world and using what works by trial and error. I am currently married but am looking to get out of this relationship soon. I am very unhappy.
I am looking for a nice, intelligent, attractive Pagan or Heathen lady with interests in Celtic and/or Nordic mythology and magical systems, tarot, etc. I'm not very choosy I'm afraid. Please email if you are interested


---
E-Mail ||||| Location: Glenview, IL||||| Path: nomadic ||||||| Sign:Pisces|||| Travel: No
Christopher Garza: I am a student in the Chicagoland area. I enjoy serenity and I like to play. I like to touch and be touched in a nice way. What I enjoy doing varies from time to time, whatever the mood calls for. I am 5'11" brown
hair and blue eyes and good teeth. I appreciate honesty and directness. I want someone I can hold because it pacifies me and lets me know I am alive.
Seeking: I want a close friend for a mutual relationship for experimenting sexually, spiritual conversations I want someone who can live life in a different light. I want to feel full and not hallowed I want someone to help fill my void.

---
E-Mail
|||||
Location:
georgetown tx|||||
Path:
Wicca, Druid, Other
|||||||
Sign:
Aries ||||
Travel:
No
Frank: I am new to the wiccan practice and been getting into the druid magick.
I am 5'8,140lbs,brown hair,hazel eyes ear and tounge piercings, and one tattoo.
I like nature do alot of gardening. Currently i have three rose bushes, two aloe ,sage,
star jasime and plane to get four more roses(yellow). I am also into technology have
worked for computer assebly companys before. love animals i have a dog. Plane to get
a cat. Love sports like football and hockey. I am into any music except country.
I am also a spur of the moment type of guy i do not make planes.
Seeking: I am looking for a down to earth type of women. One who could be a love and a teache.
One i can hold in my arms and relate to. Never dated a pagan before so looking forward
to being with someone that i can practice with. Must be a mellow person not alot of drma.
Willing to grow and change with me. Must be intellagent love to be able to have conversations
with. Good personality plus good humor. Just a simple type of women with good looks.
---
E-Mail ||||| Location:Cincinnati, Oh.||||| Path: Poly, Self Improvement||||||| Sign:Aquarius |||| Travel: Yes
Doug: I am 5'8", 170lbs, brown hair, grean/blue eyes, physically fit, intellectually and physically stimulating. I am sensitive, loving and spiritually enlightened everyday. I am a World Certified Black Belt with lot's of energy and love to share. I like to experience the love and intimacy of sveral select women whom are self confident and enjoy the energy that love and intimacy can bring into their lifes without co-dependancy, possesiveness or jealousy. My martial arts training and teaching provides a basis for self discipline and energy. I am passively assertive. I know what I want from life and I have the energy and passion to live life to it's fullest. I have been successful in the mainstream of society to facilitate my interest in my personal life. I am finacially secure, like to camp, travel, motorcycle rides on a beautiful evening, walking, talking, the sunrise, sunsets and everything in between. I enjoy making love under the stars and sharing my sacred energy with selected, equally heathy females.I am looking for women that are physically fit, attractive inside and out and open to polygamy experiences, snuggling, and sharing Divine love and energy. I am drug and alcohol free and would only be successful with those of clear mind and spirit as well..
Seeking: spiritually and physically healthy women to share the Divine energy of intimacy and love. I would also consider groups with similar interest. Additionally, I would like to share and learn from others, the wisdom each has found in their travels and experiences through this process called life. I speak truth, I experience the truth and love with clear mind and spirit. So, I do not find myself compatible with drugs, alcohol or chemically mind altering sustances or those who use such techniques. The Divine has given me all the energy and power to experience the beauty of intamacy, sexual pleasure, love and kindness. Seeking others with similar interests.

---
E-Mail ||||| Location: Cincinnati Ohio||||| Path: ||||||| Sign:Leo |||| Travel: Yes
Solace: I am an attractive, thoughtful and intelligent male, recently begining a spiritual quest to find answers to many questions that have long haunted my thoughts. Thus far, this search has been a lonely one, and in a sense, I have needed this time of solitude to sort through, but lately I'm finding the need for companionship on this spiritual quest. I have a variety of interests and consider myself a free spirited and open minded individual. I have often been described as "mellow" :)!

Seeks: I am seeking an attractive, intelligent, free spirited lady for enlightened conversation, passionate intimacy, and spiritual companionship. I don't believe there is a certain formula or list of rules to follow for what I am looking for. I just feel like I will know you when our paths cross. I couldn't possibly hope to tell everything in a short, pithy paragraph so I simply invite you to write, get to know me, and see what the flow of life brings!

---
E-Mail
|||||
Location:
Cincinnati Ohio|||||
Path:
Pagan
|||||||
Sign:
Scorpio ||||
Travel:
No
Joe
: I am tall, athletic build, with a great personality, and a caring heart. I am very interested in learning more about the pagan lifestyle. I am basically a beginner, but i am a very dedicated person. I am very open and honest. Age 19.
Seeks:
I would like to meet someone of any age that would help me with my pagan lifestyle. I have a lot of questions, and would like to meet someone with a lot of answers. Please reply if interested, preferably in cincinnati area. Thanks!
---
E-Mail ||||| Location: Cincinnati Ohio||||| Path:Wicca, Druid||||||| Sign:Sagittarius |||| Travel: Yep
Chuck: Hello, Everyone, I am currently trying to fill several voids in my life. I am trying to find a spiritual path that fits me. I am trying to find like minded friends to provide me with interesting conversation and exciting new adventures. I am quite shy. I am 6' 4" tall and have been called a "gentle giant". I am new to Earth Based Religions. I enjoy smoking my pipe, reading, solitary things but I want to open myself to LIFE, to people. I love rain, and trees. I have a B.A. in Art History from U.C. and have done quite a bit of my own art. Thanks
Seeks: Woman, Group, Long Term Relationship, Friend.
---
E-Mail
|||||
Location:
Burlington,Vermont|||||
Path:
Pagan, High Mage, Druid, Other|||||||
Sign:
Gemini ||||
Travel:
Yep
He Who Sees
: I have been blood ordained a Firekeeper among the Eastern Deleware Indians/my path is mixed among shamanism;druidism;Native American Ceremony;wiccan/pagan ritual and a smidgeon of voodoo thrown in..I consider myself as wizard
Even though my mixed bag of a path may seem just that it's 100% true as I can be.
For some time now my journey has been in a time out but recently has been re-born.....so; away we go!
Who am I? I am an admirer of art and sculpture and a lover of Celtic and some new age music.
I'm a woodsman,a fisherman,a hunter.
I am a scholar in the world of herbs and remedies; because this is a field of personal interest progress has been slow....or has it? I am a FireKeeper,knowledgable in sweat lodge ceremony ( Eastern )
I am a friend; I am a lover; a shoulder to lean on and a warm body to hold on a cold winter's night.
I am a poet and hope to be a musician perhaps also an artist. I am a visionary I am a Spirit Walker so I'm told as I travel between worlds. I am alone. I am a man with many names given me along my journey's path;I am He Who Sees; Tanjee; Two Turtles;Hawk Man;Medicine Man;Mountain Man; I am Gwydeon Mac Lir.
Who am I? I am that I am. For I am me. I am 42 and stand 6'1" and weigh about 260lbs. and am hoping to lose some of that. I have below shoulder length brown but graying :-( hair and sport a goatee.
Seeking
: I want it all! LOL which is not far from the truth. I have been widowed a little over 10 years now and my social life has been less than satisfactory. I am searching for happiness...I am searching for a girlfriend or girlfriends until such time as someone strikes my fancy that I or we so choose that we are meant fr each othe then I'll change my tune. I am searching for a wife and when I find her all else will go away and we'll get down to business. I am adament about starting a family. Existing children will certainly be loved but I so dearly want my own.
---
Sign Up HERE >>>>>>