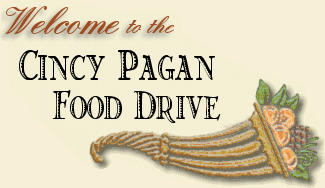 Welcome to the "Cincinnati Pagan Food Drive". Our cauldron overflows with the generosity of others. Show your pagan pride by doing something great for those less fortunate. All donations go to the Cincinnati Free Store Food Bank.
The Cincinnati Pagan Food Drive began in 1999 as a CO-celebration of "Blessed Be and Merry Meet me in DC". This is a celebration of anti-discrimination, and religious freedom.
In 1999 we held the first annual Cincinnati Pagan Food Drive. We met at "The Occult Shop" with 14 socially conscious pagans from vastly different paths. Joined together we asked the Gods of our perspective pantheon's to bless the event and give it a life of it's own. Many local shops, covens and groups helped the CPFD thrive.
The purpose of our food drive is first and foremost to feed the hungry in our area, to make a difference right here at home. Second we hope to educate the public that we are a positive religion. For too long have we been in the "broom closet", hiding our good works. This is a chance to show our love for our fellow brothers and sisters by giving back with joy. It is also a chance for us to come together and join under a banner of good will.
Donation Locations: You can drop off donations at "The Occult Shop" 513-471-5200 3647 West 8th St. on the corner of West 8th and Enright in Price Hill. Most Pagan Pride Day celebrations will accept food donations. If you know of an event or place that accepts donations please e-mail us.
Non Perishable List: Make checks or money orders payable to "The freestore/foodbank". Canned meat products (tune, chicken, ham, spaghetti, chili with meat and beans, beef stew), peanut butter, canned vegetables, canned soup, macaroni and cheese, soap, shampoo, deodorant, toothpaste/brush, feminine hygiene products, disposable diapers. Please no glass items.